Quality
Materials
We use top quality materials only, allowing for durable pipes that can withstand a lifetime of use. Call For a Consultation
Highest Quality 
Materials
Let's discuss which material works best for you
A complete repipe is a  great investment as it's a permanent fix that saves you money in the long run. We offer PEX and Copper repipes, with all installations done with domestically made materials, at affordable rates in combination with fast service and a lifetime warranty.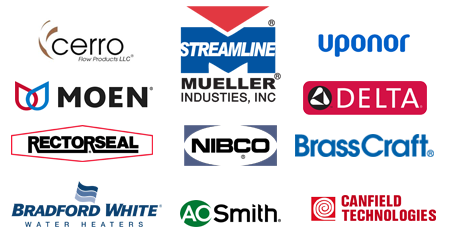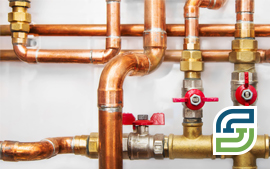 Copper Repipe
For decades copper has been the preferred material for plumbing systems; however, copper quality varies dramatically. We only use American-made copper pipes as they are, by far, the highest in quality and are manufactured to a precise, uniform standard.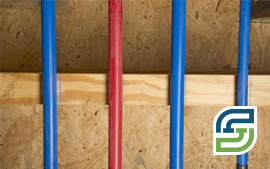 PEX Repipe
PEX is a durable, versatile, high-density plastic which is quickly becoming a favorite repipe material. PEX repipes require fewer fittings and less labor. Our PEX pipes will not corrode, scale, freeze or develop pinhole leaks.
Some of our services offered
At Streamline Repipe & Plumbing Inc. we specialize on PEX & Copper Repipes of all types but it isn't all that we offer.
Our Work: Recent Repipes, Repairs & Installations
Reviews From Our Customers

Izzy and Hector came to our house to check out a possible leaky pipe. Izzy was very thorough, helpful and took the time to explain and answer everything. He was incredibly friendly and made the whole experience very positive. He gave us quotes for a complete water repipe and talked us through everything he'd recommend in the future. We will absolutely use him to replace our water heater soon and for any other plumbing related issues we have. We definitely recommend Izzy at Streamline Repipe and Plumbing.
Malone 07/2018
Hawthorne, Ca.

The service was excellent. Izzy explained the options clearly and gave a clear estimate of the costs of each of my choices. He and his assistant Hector worked diligently to complete the project, were friendly, courteous and respectful of my home. I have utilized Streamline Repipe and Plumbing Inc. a number of times and always been pleased with the work and the individuals I have encountered in each project. I recommend Streamline Repipe and Plumbing Inc. and will use this company for any future needs.
Maurice D. 08/2018
Cerritos, Ca.

Izzy came out quickly, gave me great advice and a great quote on a replacement water heater, and had the job done quickly. Really nice and professional. Will definitely use them again in the future.
Tom M. 12/2018
Diamond Bar, Ca.

Great job by Hector and the guys found the plumbing problem and did a very good job of explaining options. They fixed the problem and I feel gave us a fair price. Thanks guys and thank you Izzy who took my phone call and started my experience - very timely in getting my job done.
Ronald B. 01/2019
Long Beach, Ca.

Very excellent service from scheduling to Repiping my whole house. Friendly and excellent technicians. I highly recommend Streamline Repipe and Plumbing.
Leo R. 01/2019
Canola Park, Ca.

After facing serious and complicated plumbing issues recently, Izzy and his crew from Streamline Repipe & Plumbing were on-site at short notice, diagnosed our problems, explained what was required, gave us quotes for the necessary work – on-the-spot, then got to work fixing plumbing issues that previous contractors gave up on, or failed to adequately figure out or fix. Izzy is a great guy with very good skills, and I would recommend Streamline Repipe & Plumbing to anyone and everyone.
Lia R. 12/2018
Redondo Beach, Ca.

I didn't expect to find a plumber on December 24th so Hector and Izzy made my day!! It was obvious right away that we were in great hands as they were both extremely professional, knowledgeable and customer service minded. It was evident from the start that having a good relationship with the customer is of utmost importance. I will not hesitate to call in them again for my future plumbing needs.
Jen S. 12/2018
Sherman Oaks, Ca.

Great and comprehensive visit, diagnosed the problem, and gave a clear estimate on Repiping our 8 unit building. I've used Streamline Repipe and Plumbing several times with great results and nice/helpful experts. Thanks, Izzy
Joe M. 11/2018
Montebello, Ca.